Get back to the basics with a new hands-on exhibit! Discover the history of our most basic building blocks of drumming – the PAS Rudiments. Learn their notation and unique naming structure, then take that knowledge straight to the practice pad.
What Are Rudiments?
Drum rudiments are the core building blocks for drum beats and fills, in the same way that letters and words build sentences. Rudiments originated in military drumming, and were patterns used to signal troop movement. The Percussive Arts Society International Drum Rudiments is a codified set of 40 rudiments which was finished in 1984, and serves as a foundation for the study of rudimental drumming. All rudiments have precise rhythms and specific instructions for the order and manner in which each hand strikes the drum. Useful as both technical exercises and musical vocabulary, mastering these patterns brings fluidity, skill, and speed to performers.
Learn more about the Percussive Arts Society.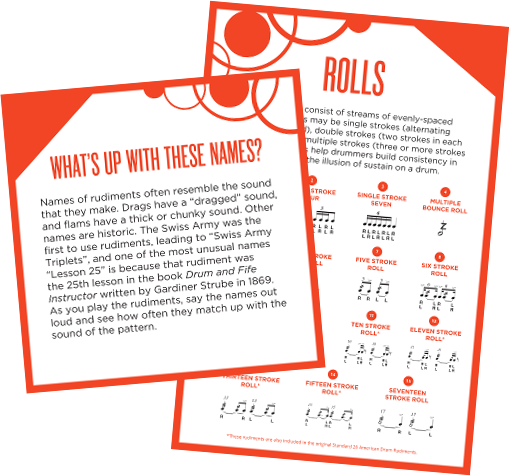 A Brief History
Basic drum patterns for military movement were used by the Swiss Army as early as the 14th century. These patterns began to spread throughout Europe and America over the next few centuries. In 1812, the word "rudiment" was used for the first time to describe these patterns in Charles Ashworth's book A New, Useful and Complete System of Drum-Beating. In the early 20th century, Drum and Bugle Corps contests were common, but the lack of a common musical vocabulary made them difficult to judge.
In 1932, the American Legion and Ludwig Drum Company brought together renowned drummers to discuss the future of drumming and drum instruction. At that time, they codified a list of 26 rudiments. Of those 26, 13 were deemed the "Thirteen Essential Rudiments" that every drummer should know. In the 1970s and 1980s, the Percussive Arts Society expanded the list to 40 rudiments, adding additional drum corp, orchestral, and contemporary rudiments to the original 26. The purpose of the Percussive Arts Society International Drum Rudiments was to create a vocabulary that would benefit percussionists of the present and the future.
Listen to the Rudiments
Audio Recordings ©, (p) 2005 Alfred Publishing Co., Inc.
This selection of rudimentary percussion exercises are performed by Aubrey Adams and are featured in the Percussion Book 2 of Alfred's "Band Expressions" series. All rights reserved. Used with Permission of the copyright owners.