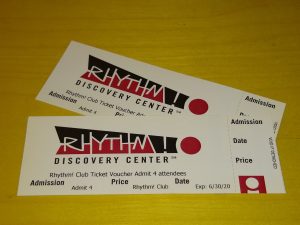 Has a member of your family received Rhythm! Club tickets during a recent visit to the Rhythm! Discovery Center?
These tickets encourage our school tour visitors to come back and bring their friends and family. Each ticket is valid for up to four admissions, any type. When you show your tickets at the front desk, you'll receive a reusable wristband for free admission to your entire group each time you visit.
Join us every Saturday for special programs at 11AM and 2PM. Programs include performances, storytelling, drum circles and many other opportunities to learn about percussion. Or come any other day to explore our many interactive exhibits.
Have questions? Call 317-275-9030.
The Find Your Rhythm! Community Outreach Program is supported through a generous grant from the NAMM Foundation and other local arts organizations.