Rhythm! Birthdays
Our interactive exhibits provide the perfect setting for celebrating your child's special day! Add rhythm to your birthday parties and let Rhythm! Discovery Center be your host. We offer all party-goers a chance to experience the excitement of playing drums and percussion with their closest friends.
To book your birthday party, please contact Rob Funkhouser at (317) 275-9030 or rfunkhouser@pas.org
What does the basic party include?
A 20 minute drum circle facilitated by a Rhythm! staff member where party attendees explore world rhythms and play rhythm games.
Museum admission for all guests.
Chairs and tables set-up near the entrance of the museum.
Time for food, cake, and opening presents.
Free time in Rhythm! where guests can explore and play over 200 percussion instruments.
A Rhythm! pencil and sticker for each party guest to take home.
One restaurant high chair for toddler birthday parties (available upon request)
How many people am I allowed to have at the party?
Due to space constraints, please have no more than 20 children attend a Rhythm! birthday. Adults are not included in the maximum number of guests.
What is the cost of a birthday party?
Parties with up to 10 children are $200. Parties with 11-20 children are $250. A $50 deposit (applied towards final cost) is required at time of booking.
Do I have to buy museum admission for my guests?
Admission for all guests is included in the birthday party package.
What can I add to my party?
We offer a Build-A-Shaker workshop for an additional $6 per guest. Children get the chance to decorate and take home a shaker to remind them of the great Rhythm! experience they had at the birthday party.
What do I need to provide?
Feel free to bring your own tablecloths, place settings, and decorations (no glitter or confetti please!) as well as cake, food and beverages. Rhythm! is unable to offer refrigeration and requires that all food is pre-prepared. No alcohol is allowed at our birthday parties.
Do kids have to be accompanied by adults?
All guests under the age of 18 must be escorted by an adult while at the museum. Rhythm! requires that at least 5 adults attend the party as chaperones.
When can I host a party?
Birthday parties may be held during one of the following time slots:
Saturday: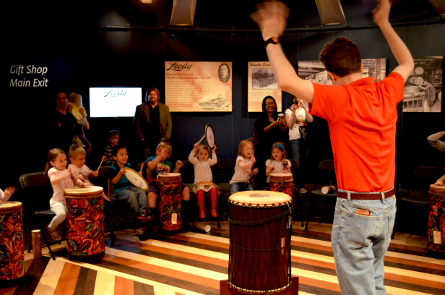 10:30-12:30
11:30-1:30
12:30–2:30
1:30-3:30
*Sunday:
12:30-2:30
OR
1:30-3:30
*Please note, only 1 birthday party can be booked on Sunday.
Arrival Procedures:
Party Guests: We recommend parking in the Circle Centre Mall Parking Garage. Once there, take the elevator to Level 2 of the mall and walk through the ArtsGarden towards Claypool Court. After entering Claypool Court proceed down two escalators. The entrance to Rhythm! Discovery Center will be visible on your left. Guests should check in with the front desk when they arrive.
Party host: To drop off party supplies host may pull into drop off lane on Washington St near the entrance to Panera Bread. Enter at street level and proceed down the escalator to the lower level. The entrance to Rhythm! Discovery Center will be visible on your left. After unloading is complete, we also recommend parking in the Circle Centre Mall Parking Garage. Party host should arrive 30 minutes prior to the reserved time to check in with the front desk and to set up.
Deposit and Cancellation:
A $50 deposit is due upon booking of the party and is nonrefundable/nontransferable. This deposit cost is included in the total cost of the birthday party. Full payment is due at the end of the birthday party. Rhythm! accepts cash, card, and check.