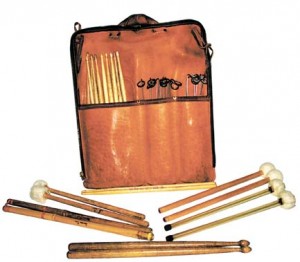 Sticks and mallets are a primary means of creating tonal variations on percussion instruments. Different sizes and materials often produce quite individual sounds for individual performers. An examination of sticks and mallets used by several deceased PASThe Percussive Arts Society is a music service organization whose mission is to inspire, educa... More Hall of Fame members provides insight into each member's unique sounds.
Pictured is a leather stick bag, measuring 15 1/2 inches wide by 18 1/2 inches tall, which was used by jazz and studio drummer Shelly Manne to carry an assortment of snare drumOne of the more common drums in marching bands and drumlines and the primary drum of a drum set... sticks, brushesA type of mallet that consists of fanned-out wire bristles and are typically used in jazz drumm... and mallets. At the base of the bag is a pair of Pro DrumA hollow cylindrical shell of any size that has a head stretched over one or both ends and is b... Shop "Shelly Manne" drumsticksA pair of wooden sticks used to play a drum or set of drums. Popular brands of drumsticks are P... measuring 14 inches in length. Donated by Florence "Flip" Manne. 1995-02 58.
Other sticks and mallets (shown clockwise from the stick bag) in the PAS Museum include:
A pair of 15 inch bamboo-shaft timpaniVery large bowl-shaped drums made of copper or brass. Most often used in orchestras and symphon... mallets made by William Street, Rochester Philharmonic Orchestra Timpanist and Professor at the Eastman School of Music. Donated by Robert B. Stuart. 1999-04-04.
A pair of 14 1/2 inch plastic-shaft timpani mallets made by Billy Gladstone, who was an inventor, as well as the percussionist for Radio City Music Hall. Donated by Robert B. Stuart. 1999-04-03.
A pair of 17 inch "Charlie Wilcoxon" model wood snare drum sticks. Wilcoxon was a respected teacher, composer, and performer. Donated by Michael Rosen. 1994-02-01.
A pair of 17 1/4 inch Hinger Touch-Tone snare drum sticks. Hinger, timpanist with both the Philadelphia Orchestra and Metropolitan Opera Orchestra, made these snare drum sticks from bamboo wrapped with tape. Donated by Michael Rosen. 1999-04-07.
A pair of 14 1/2 inch model 346 timpani mallets manufactured by William F. Ludwig. These wood-shaft sticks have replaceable felt balls. Donated by Vita Arndt. 1996-02-07.