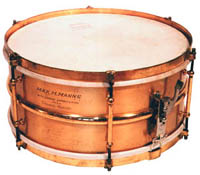 The 6-lug, 6-1/2 x 14 inch, gold-plated drumA hollow cylindrical shell of any size that has a head stretched over one or both ends and is b... belonged to Max H. Manne, Shelly Manne's father. It was a gift from Vernon Castle, who, with his wife, formed a famous ballroom dancing duo. This was the first gold-plated drum manufactured by Ludwig & Ludwig and was presented to Manne when he left Castle's orchestra to become manager of productions at the new Roxy Theatre in New York.
Donated by Florence 'Flip' Manne
The black-lacquered, 7 x 14-inch drum, made for Elden C. 'Buster' Bailey, was the first drum (other than Gladstone's personal one) that he manufactured. The inscription plate reads: 'Elden C. Bailey, Philharmonic Symphony Orchestra of New York, October, 1949, Drum #0'
On loan from Elden 'Buster' BaileyClose-up of the inscription showing the dedication from Castle to Manne.