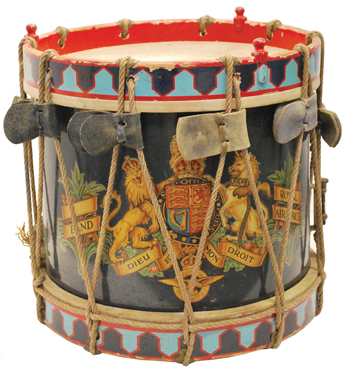 (2009-08-01) This drumA hollow cylindrical shell of any size that has a head stretched over one or both ends and is b... was purchased with funds given by Ruth Komanoff Underwood in honor of Lauren Vogel Weiss
Historically, parade drums are large-sized instruments that are used to march military troops outdoors from one location to another in order to keep them in step. They also functioned as the chief method of signaling commands for camp duties or movements during battle. In Britain, as well as other countries, the drums were often covered or decorated with the coat of arms representing the name of the commander or the legion of troops.
This 14×14-inch brass-shelled, rope-tuned drum is elaborately decorated with the Royal Coat of Arms of the United Kingdom. The coat features two mottos. The first, which is for the Order of the Garter and surrounds the shield, states: "Hon Y Soit Qui Mal Y Pense" or "Shame be to him who thinks evil of it." The second, written on the scroll below the shield, is "Dieu et Mon Droit"—"God and My Right."
Below the crest is an added eagle with outstretched wings, and to the sides are four scrolls, three of which state "Royal Air Force Band." The fourth scroll, on the top left of the design, is where the specific band name is customarily painted. As no specific band or unit is named, this drum was most likely used as a training drum (and therefore never assigned to a specific band), or it could have been purchased privately by a member of an RAF pipe band, which were generally all-volunteer organizations and not officially recognized by the RAF.
The wooden hoops feature a castellated design with two shades of blue separated and surrounded by dark red. This design feature, as well as the dark blue of the garter surrounding the shield, was utilized beginning about 1944–45. The probable manufacturer of this drum is the Henry Potter Company of London, England, though no labels or markings are evident.
A significant feature of the drum is the addition of a second set of snaresThe long, spiral-shaped wires that are stretched across the bottom of a snare drum. These wires... below the batter head. The strainer obviously came from the manufacturer, but as Potter is not known to have made drums with double snares, it would have been either a special order or installed by the owner after purchase. The drum has calfskin heads, two strainers (each with 10 strands of gut), and 10 leather ears that apply tension on the ropes to tune the heads.