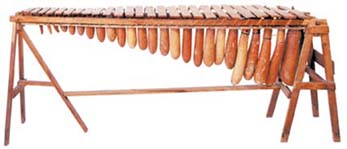 (1993-02-25) Donated by the Celeste and Emil Richards Estate.
The Guatemalan marimbaAn instrument that consists of a large frame and a set of tuned wooden bars which are struck wi... most like the instrument brought to the New World from Africa is the Guatemalan Indian marimba with gourd resonatorsThe metal pipes that extend below the bars on a marimba, xylophone, or vibraphone. They carry t..., the marimba con tecomates. For the resonators, the makers of these instruments prefer the elongated calabash gourd rather than the round jícara gourd more typically found on African marimbas.
This instrument is tuned to a seven-note diatonic scale of approximately equal intervals, with 26 total bars. Like all Guatemalan marimbas, the gourd marimbas are made entirely of wood that is strung together with hemp binding. Each resonator has a vibrating or buzzing membrane called a tela, which is made of pig or monkey intestine and attached near the bottom with a circle of beeswax. The bars are strung by passing hemp cord through two holes bored vertically about an inch apart. In contrast to the more modern system of passing a cord through the sides of the bars, this method of stringing dates this instrument to about 1925.
To some, this instrument may appear unfinished. To others, it represents a level of native craftsmanship that is quite appealing in its simplicity and ingenuity.