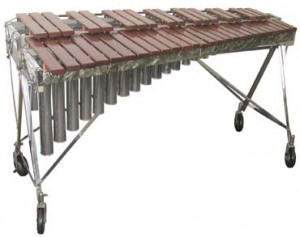 (2007-13-01) Donated by William MacMillan Jr.
This Leedy Solo-Tone MarimbaAn instrument that consists of a large frame and a set of tuned wooden bars which are struck wi..., Model 5610, was donated to the PASThe Percussive Arts Society is a music service organization whose mission is to inspire, educa... More Museum by Judge William MacMillan Jr. from Dayton, Ohio. The instrument, which he has played since childhood, was a gift from his father. While attending law school at Notre Dame, MacMillan won the opportunity to perform with Lionel Hampton and his orchestra and was a member of the Notre Dame Marching Band, University Orchestra, and the South Bend Symphony Orchestra.
This instrument has a range of 3 1/2 octaves (F to C). The frame, which is covered with a Black Pearl finish, measures 61 1/2 inches in length, 27 inches in width on the bass end, and stands 34 1/2 inches high. The bars, all 7/8-inch thick, range in size from 2 1/2 to 1 3/4 inches in width and from 17 3/8 to 6 5/8 inches in length. The chromed, metal resonatorsThe metal pipes that extend below the bars on a marimba, xylophone, or vibraphone. They carry t..., each capped flat on the end, range from 18 1/2 to 1 1/2 inches in length and from 2 1/4 to 1 3/4 inches in width.
Leedy Manufacturing Co. was established in Indianapolis, Indiana and moved to Elkhart, Indiana after being purchased by G. C. Conn in 1929. As this instrument was manufactured in Elkhart, it dates from the 1930s. In 1933, it sold for $210 and could be ordered with Full Dress pearl, sparkling, or duco finishes for the frame, and with chrome or Nobby Gold on the resonators for no extra charge.