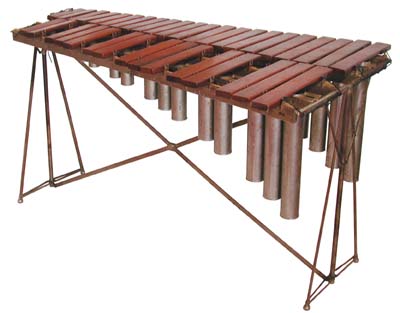 (2005-01-01) Donated by Jack E. Rumbley
The Concert Grand model marimbaAn instrument that consists of a large frame and a set of tuned wooden bars which are struck wi... was the top-line brand name utilized by the Leedy Mfg. Co. in the early 20th Century. It was available in 3-, 3 1/2-, and 4-octave ranges and was designed so that the accidental bars were mounted level with the naturals or raised above them in order to overlap the ends. With the exception of the vibraphone, raised accidentals are almost universally preferred today for keyboard percussion instruments. However, at the beginning of the 20th century, many performers, such as Harry Bower, professed that superior technical performances could be achieved when the bars were mounted level.
This instrument is a Model 538 marimba with bars made from Honduras rosewood and suspended by a cord. It has a three-octave, chromatic range from F below middle C to F two octaves above middle C. The instrument stands 32 1/2 inches high and is 57 1/2 inches long. The bars are graduated in size, ranging from 8 9/16 inches to 17 13/16 inches long and from 2 inches to 2 7/16 inches wide. All bars are 13/16 inches thick.
The frame is one of Leedy's earliest designs, appearing in its 1912 catalog, and has level-mounted accidental bars. For ease of packing and moving, each resonator is split completely apart and the rails are split in the center but connected with a vertical hinge. The lower portion of the frame folds compactly and is designed with slots for the insertion of the rails and resonatorsThe metal pipes that extend below the bars on a marimba, xylophone, or vibraphone. They carry t.... The resonators are capped at the ends of the tubes, a contrasting design from later resonators which have the caps inside the tubes. The resonators range from 2 to 18 1/4 inches in length and from 1 1/2 to 2 1/2 inches in diameter. A letter from Leedy dated July 1, 1918, announced a revised list price of $225.00 for this model marimba.