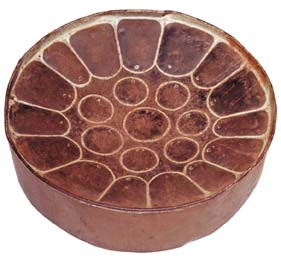 (1996-11-01) Donated by Frances Ulrich
Developed predominantly by urban dwellers on the islands of Trinidad and Tobago during the 1930s, pan and the steel band movement have since spread world-wide and been incorporated in many styles of music. The principal instrument used in pan (or steel band) music is the steel drumA pitched percussion instrument, made from 55-gallon industrial drums, which formerly contained..., or pan.
This lead pan is an early example of the 'Invader'style steel drumA hollow cylindrical shell of any size that has a head stretched over one or both ends and is b.... It is so designated due to its design by Ellie Mannette and its use by his band, The Invaders. It is constructed from a 55-gallon barrel, which dates it just after 1946. Prior to this date, smaller containers were used to construct pans.
Most current pans are tuned to the 2nd or 3rd partial. However, this early lead-style pan has each of its 23 pitches tuned only to the fundamental pitch. This instrument is 22 3/4 inches (58.0 cm) in diameter and has a skirt measuring 6 inches (15.0 cm) in height.