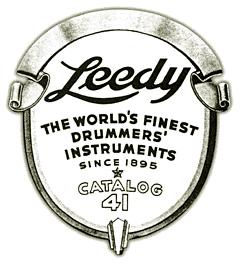 In the early 20th century, Indianapolis was an epicenter of industry and trade. Like many other large capital cities of the time, it became a hub for music, art, and culture. After settling in Indianapolis, Ulysses G. Leedy was determined to produce a better set of drums for himself and other drummers playing in the city's many theaters and dance halls. Leedy opened his drum factory at the corner of Palmer and Barth Streets in 1903. Spanning the next 30 years, the company grew to be one of the largest drum companies in the world. Join us as we explore Leedy's transformation from a single room operation to "The World's Largest Drum Company."
Humble Beginnings:
In 1895, U.G. Leedy began his manufacturing career by producing drums and other percussion equipment in his one-room apartment, assisted by his roommate and fellow musician, Sam Cooley. Leedy saw an opportunity to expand his business and started Leedy & Cooley, a drum manufacturing company. As business picked up, and space became limited, the operation was moved to a larger location in 1898.
They selected a downtown location in the Cyclorama Building. This building also has a storied history. It once served as an indoor bicycle track, an art gallery, and even housed the Indianapolis Zoo! Leedy & Cooley occupied three rooms in the basement of the building. At the time, the company had three employees: C.B. Wanamaker, Herman Winterhoff, and U.G. Leedy. In 1903, after Cooley left the business, Leedy purchased four parcels of land at the corner of Palmer and Barth Streets to house the factory that came to be known as "The World's Largest Drum Factory."
Leedy Personalities
U.G. Leedy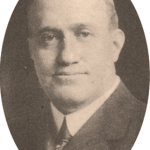 Ulysses G. Leedy was born in 1867 in Fostoria, Ohio. Ulysses, or U.G. as he was called by friends, started drumming at a young age. His first drum was a Civil War drum that belonged to his brother, who had purchased it from an old soldier. There are stories of Leedy playing his drum every day outside of a train station for money!
As he got older, Leedy was called to play in different shows and went from town to town performing in various theaters. While still on the road in 1896, he produced and patented the first collapsible snare drum stand. In 1897, Leedy moved to Indianapolis and began playing at the Empire Theater, located near the intersection of Market and Delaware Streets. It was in the Circle City where he got his start manufacturing percussion instruments. Leedy, with his roommate and clarinetist Sam Cooley, formed Leedy & Cooley Drums, and began creating percussion instruments in their apartment.
Soon after, orders began rolling in thanks to Leedy's contacts in the traveling music world. Leedy's business outgrew his apartment, requiring him to move his operation to the basement of the Cyclorama Building, just off of Monument Circle (You can see a photo of this building at the beginning of this exhibit!). After dissolving his relationship with Cooley, Leedy relocated to his final manufacturing site at the corner of Palmer and Barth Streets in the Bates-Hendricks neighborhood, south of Fountain Square. Over time the factory grew to around 80,000 square feet resulting in Leedy calling itself the "The World's Largest Drum Company."
Source: The Complete History of the Leedy Drum Company by Rob Cook
George H. Way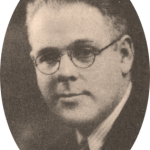 Although George Way did not join the Leedy Manufacturing Co. until 1921, his impact was immediate and lasting. Way was recruited to be the company's sales manager by U.G. Leedy after seeing his work for other drum companies. However, Way was known as a performer long before he was involved in producing drum designs and dreaming up advertising campaigns. He got his start playing percussion in the Ringling Brothers Circus and Buffalo Bill's Wild West Show. Way later became famous for performing with actor and Vaudevillian performer Al Jolson and songwriter George M. Cohan.
While still playing, he started his own drum company called the Advance Drum Company in Edmonton, Alberta. It was his work at Advance that caught the attention of U.G. Leedy. Way stayed with Leedy for over 20 years selling sticks, drums, heads, and other percussion materials. Way was also credited with the idea for publishing Drum Topics, Leedy's promotional magazine. He later went on to work for the Slingerland Drum Company before starting his own percussion business. His George H. Way Drum Co. grew into Camco Drums, which is now Drum Workshop.
Source: The Complete History of the Leedy Drum Company by Rob Cook.
Herman Winterhoff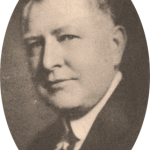 Herman Winterhoff was one of three employees who began working with U.G. Leedy during his time at the Cyclorama Building. Winterhoff served as the master tuner for Leedy bells and mallet percussion instruments. During his nearly thirty year tenure, he eventually became the company's Vice President.
Winterhoff was born in Elkhart, IN, and met U.G. Leedy during the 1890s while playing in theater orchestras. An accomplished cello and trombone player, he is now better remembered as a percussion innovator and inventor.
In 1916, Winterhoff designed and built the world's first vibraphone. This instrument applied a mechanical vibrato to the marimbaphones that Leedy was already producing. He mounted rotating resonators and a motor to the instrument to give it that "vibrato" sound. Winterhoff refined his creation over the next several years; however, over the same time period other manufacturers had expanded upon his original design. You can see an example of a Leedy vibraphone in the Innovations section of this exhibit.
Cecil Strupe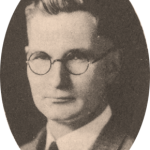 Cecil Strupe was the Chief Mechanical Engineer and Shop Superintendent for the Leedy Manufacturing Co. from the early 1920s to the mid-1930s. Strupe took the concepts of George Way and brought them to life, such as the double-flanged hoop.
After selling his company to Conn Drums of Elkhart, IN, U.G. Leedy and Strupe formed a new drum company called L & S Drums in 1930. This was done so that Leedy workers who did not want to make the move to Elkhart had a place to work in Indianapolis. Strupe left L & S Drums in 1936, and went on to work at WFL where he designed the triple flange hoop and the Victory drumset.
During World War II, Strupe joined the White Musical Instrument Company. However, during the war the company's manufacturing was converted to support wartime production. Strupe stayed to work at White Co. after the war, leaving the world of percussion behind.
Early Leedy Recordings
Mummy Mine – Green Brothers Xylophone Orchestra
Mummy Mine
A Bunch of Roses – Green Brothers Xylophone Orchestra
A Bunch of Roses
Monastery Bells – Green Brothers Xylophone Orchestra
Monastery Bells
Purdue World's Largest Bass Drum
The Purdue "World's Largest Bass Drum" was produced in Indianapolis by Leedy in 1921. The vision for the drum came form the band's director at the time, Paul Spotts Emerick. The drum is nearly eight feet in diameter and four feet wide. The original drumheads came from two large steers in South America, as they were the only animals large enough to produce the drumheads. The drum now uses custom made plastic drum heads that are changed as needed throughout the season. The drum is over 10 feet high when mounted on its custom carriage, which is maneuvered by six crew members!
Conversation With A Curator
A look into the new exhibit 'Drums From the Circle City: The Leedy Drum Company from 1895-1930' at Rhythm! Discovery Center. Learn about how the exhibit took shape and what one can learn about the Leedy Drum Company within the exhibit. Thanks to Sky Blue Window and WFYI for including Rhythm! Discovery Center in this exciting new series.
Catalogs and Publications
Leedy Drum Topics was a promotional magazine published by the Leedy Drum Company from 1923 to 1941. Drum Topics was developed by Leedy's sales manager, George H. Way, as a means of promoting new Leedy products, providing playing tips, and showcasing Leedy-endorsed artists. Prior to working for Leedy, Way spent many years in vaudeville, as well as the circus, and knew the value of humor and entertainment, which showed in the magazine's presentation. Readers were also encouraged to send in photos and stories about themselves (Can you imagine what George Way would have done with social media?). The magazine increased the public's awareness of Leedy, and by Issue #9 almost 50,000 copies were in circulation. Always one for self-dependence, Leedy designed the magazine in house and printed it in Indianapolis. Check out some of the Drum Topics we have on display!
Leedy Catalog "R" – This promotional catalog is typical of 1920s style lithograph illustrations. The catalog features Leedy products such as snare drums, bass drums, trap sets, marimbas, vibraphones, and percussion accessories. (1928, Indianapolis, IN) From the Balter Collection, Percussive Arts Society.